NMIAPP.com DRUG TESTING CONSORTIUM (PIP) PRIVACY POLICY
Security
NMIAPP.com uses Industry-Standard HTTPS Certificates.
Note:The NMIAPP.com Certificate is automatically renewed every 90 days.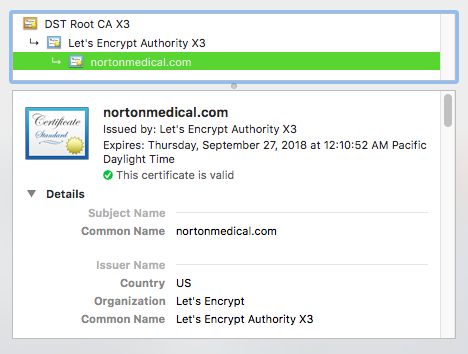 Additional
What is the General Data Protection Regulation (GDPR)?

The General Data Protection Regulation is designed to unify data privacy requirements across the Nation. If you market to, or process information of data subjects – including end users, customers, and employees – your company must conform to the General Data Protection Regulation policies to continue conducting business.
Norton Medical websites are compliant with PECR/ePrivacy regulations.
Your company information is securely stored at Norton Medical Industries main office.
We acknowledge that consent is the most appropriate lawful basis for processing your business information.
Norton Medical Industries has made the request for consent to maintain your company information prominent and separate from our terms and conditions.
Norton Medical Industries asks people to positively opt-in.
Norton Medical Industries does not use pre-ticked boxes or any other type of default consent.
Norton Medical Industries uses clear, concise, plain language that is easy to understand.
Norton Medical Industries specifies what we need the data for and how we will use it.
Norton Medical Industries provides individual, granular, options to consent for different purposes and processing options.
Norton Medical Industries will name ourselves and any third party companies, such as laboratories and collection sites, wo will be relying on the consent.
Norton Medical Industries will notify individuals they can withdraw with consent.
Norton Medical Industries ensures individuals can refuse to consent without detriment.
Norton Medical Industries avoids making consent a precondition of a service.
What Personal Information About You and Your Employees Do We Process?

Personal and contact details such as title, full name, contact, and contact history.
Date of Birth, Gender, and/or Race/
Contact records ie. telephone records, emails, applications, etc.
Products and services you hold with us, those you've expressed interest in, and payment methods.
The use of our products and services, any call outs and claims, and the status of those claims.
Information about your use of products or services held with our business partners, such as insurance policies, mortgage, savings or other financial services and products.
Third party collected information.
Prevention agencies including public (CCJs, defaults, etc) and shared credit history, financial situation, and financially history.
Fraud debt and theft information.
Criminal record information.
Employment history.
Insight about you and our customers gained from profile analysis of customers.
Information about any guarantor which you provide in any application, where relevant.
Third party transactions, where any person other than the account holder uses the service, information about that person, and the transaction.
How Do We Collect Personal Information?

Directly from you, and any information from family members, associates, or beneficiaries of products and services that have been authorized.
Automatic generation when you use our products and services.
What Do We Use Your Personal Data For?

Managing the product or service you have with us.
Managing any aspect of the product or service
Test the performance of our products, services, and internal processes.
Improve the operation of our business and our business partners.
Follow best practice measurements as the rules by government and regulatory bodies change.
Management and auditing of our business operating including accounting.
Administer our good governance requirements, requirements of other members of our AA Group such as internal reporting and compliance obligations or administration required for Annual General Meeting (AGM) processes.
Market research, analysis, and developing statistics.
Direct marketing communications and related profiling to help offer you relevant products and service.
Provide personalized content and services, such as customizing and tailoring our products, customer experience, service, and content.
Develop new products and services and improve current products through client reviews and feedback.
Comply with legal and regulatory obligations, requirements, and guidelines.
Provide insight and analysis to help improve products and services of our operating procedures.
What are the Legal Grounds for Processing Your Personal Information?

Assessing applications for products or services you hold with us, including product offers, price, payment methods, etc.
Manage products and services you hold with us, or would like to hold with us.
Updating records for quick and effective communication.
When applying for management service products.
Automated decision making processes.
Following guidelines and regulations for best practice set forth by government and regulatory bodies.
Management purposes of our business operations, including accounting.
Pre-application credit checks.
Overseeing records of communication between you and our staff.
Internal reporting and compliance obligations or administration required for AGM processes.
Market research, analysis, and developing statistics.
Direct marketing communications and related profiling to help offer relevant and reliant products and services.
Provide insight and a brief analysis of our customers to business partners, providing products or services, improving products/services, and assessing and improving business operations.
Complying with any legal and/or regulatory obligations.
When Do We Share Your Personal Information with Other Organizations?

Client laboratories, collection sites, and service providers.
Market research organizations to help us develop and improve our products and services.
How and When Can You Withdraw Your Consent?

You can withdraw your consent at any time by contacting our office staff. We rely on and appreciate your consent to process personal data.
Is Your Personal Information Transferred Outside of the United States?
Do We Share Your Information with Credit Reference Agencies?

No. We use this information to:

 Verify the accuracy of the data you have provided us.
Prevent criminal activity, fraud, money laundering, etc.
Manage your accounts.
Assess payment methods available to you.
What Should You Do if Your Personal Information Changes?

Please, contact us so we can update our records in our system to avoid communication errors.
How Long Do We Retain Personal Information?

Unless otherwise states, we hold personal information for the duration of our business relationship, for as long as we provide goods/services to you, and retention periods in line with legal and regulatory requirements. 
What Are Your Rights Under Data Protection Laws?

The right to be informed about the processing of your personal information.
The right to have your personal information corrected if it's inaccurate.
The right to object to processing of your personal information.
The right to restrict processing of your personal information.
The right to have your personal information erased (the right to be forgotten).
The right to request access to your personal information and to obtain information about how we process it.
The right to move, copy, or transfer your personal information.
Rights in relation to automated decision making that may affect you.

Not all rights apply in all circumstances.
Your Right to Object

You have the right to object to certain purposes for processing information, in particular to data processed for direct marketing purposes.
Marketing Preferences and What They Mean

You can opt out of any marketing by following the unsubscribe links.
If you receive a marketing call from us, you can ask the customer service agent to opt you out.
You can write to us at our physical address or email us through our Contact Us page.

Additional

We are compatible with Microsoft 365 documents.
Contact Us

If you have any questions about this privacy notice, or wish to exercise your rights, you can write to us directly at :
NMIAPP.com
Norton Medical Industries
6265 Sepulveda Blvd. #13
Van Nuys, CA 91411